– JOIN US FOR THE 40TH ANNUAL CHESTERTON CONFERENCE –
THE MERRIEST EVENT OF THE YEAR - ATTEND IN PERSON OR ONLINE!
Hope, Joy, and G.K. Chesterton
SHERATON LISLE NAPERVILLE HOTEL
Come for the intellectual stimulation, spiritual edification, fellowship & fun!
We're back and better than ever! Join us for this year's Chesterton conference, our annual three day reunion of friends, old and new. Don't miss this opportunity to experience Chestertonian joy and to learn how to live the spirituality of G.K. Chesterton in your everyday life. Bring a friend…bring your whole family!
Join us in person! This year's event will take place in the spacious Sheraton Lisle Naperville Hotel in the western suburbs of Chicago. Restrictions have been lifted so there's room for everyone to attend in person!
**LIMITED OFFER – Register to attend the conference in person by July 9 and you'll receive a FREE hardcover volume of The Collected Works of G.K. Chesterton. Your book will be waiting for you at conference check-in.**
Can't make to Chicago? Register to attend online! Virtual conference is free for current members. Check your email or your member dashboard for the promo code to use at checkout.
An all-star speaker line-up including ...
✦   Alan C. Duncan, Producer of The Public Square Radio Broadcast  – "How Much Chesterton Did C.S. Lewis Read?"
✦   Joseph Pearce, Prolific Author – "The Humor and Humility of G.K. Chesterton"
✦   Dawn Eden Goldstein, Author and Scholar – "Chesterton and My Jewish/Catholic Journey"
✦   Crystal L. Downing, Co-Director at the Marion E. Wade Center – "The Surprise of Chesterton: Dorothy L. Sayers"
✦   Mark Matthews, Senior Software Engineer – "Chesterton and Artificial Intelligence"
✦   Fr. Spencer Howe, Chaplain of The Society of Gilbert Keith Chesterton – "Good to be Alive: On the Wholesomeness of Celebrating Birthdays"
✦   David Deavel, Professor, University of St. Thomas – "The Happy Warriors: G.K. Chesterton and St. John Henry Newman as Satirists "
✦   Eric DeMeuse, Headmaster of Chesterton Academy of Milwaukee – "Witches, Wolves, and Will-o'-the-Wisps: Education as a Joyful Crisis"
✦  Joshua Russell, Headmaster of Chesterton Academy of the Sacred Heart – "The Sound of Ideas: Music as a Reflection of Philosophy Throughout the Centuries [+ Concert!]"
✦   Chuck Chalberg, President of History on Stage – "A Visit with Mr. Chesterton: Thoughts on Hope and Joy
Greet old friends and make new friends in a relaxed, convivial atmosphere!
This year's conference will take place at the beautiful Sheraton Lisle Naperville Hotel. Book online or call the hotel at +1 630-505-1000 (mention the Chesterton Society for discounted rates). The deadline for discounted hotel rates has been extended to July 16, but hurry! Room availability is limited!
Sheraton Lisle Naperville Hotel – 3000 Warrenville Rd, Lisle, IL 60532 | +1-630-505-1000 | BOOK ONLINE
**UPDATE – rooms are extremely limited at the Sheraton Lisle Naperville. Rooms are also available at the Hyatt Regency Lisle near Naperville 1400 Corporetum Dr, Lisle, IL. More Details**
JOY, which was the small publicity of the pagan, is the gigantic secret of the Christian.
MEAL PLAN DETAILS
A meal package of catered meals at the hotel may be purchased in addition to your conference registration package. The meal package includes Thursday night dinner; all meals on Friday; and breakfast and lunch on Saturday. The full meal package also includes a ticket to our annual Traditions closing banquet. Meals are served buffet-style in the same area of the hotel as the talks, making meals both inexpensive and convenient. Meal packages must be purchased ahead of time; we are unable to sell meals on site. 
CLOSING BANQUET
Banquet tickets may be purchased separately or as part of the complete meal package described above This joyful evening of jokes, toasts, songs, clerihews, and other fun is hosted by Dale Ahlquist and is the highlight of our annual conference. Hurry – seating is limited!
ONE DAY TICKETS
One-Day Tickets are available for purchase at the door as seating allows. Member, student, or clergy discounts do not apply for One-Day tickets.
HOTEL VENUE
This year's conference will take place at the beautiful Sheraton Lisle Naperville Hotel. Book your room now to take advantage of the special conference rate of $92/night for a single room or $112 for a suite. To reserve your room, book online or call the hotel at +1-888-236-2427.
REFUNDS
We are unable to issue refunds for any conference item (registration, meals, banquet tickets, or vendor tables) at any time. For more information, please contact the Society of Gilbert Keith Chesterton toll free at 1-800-343-2425.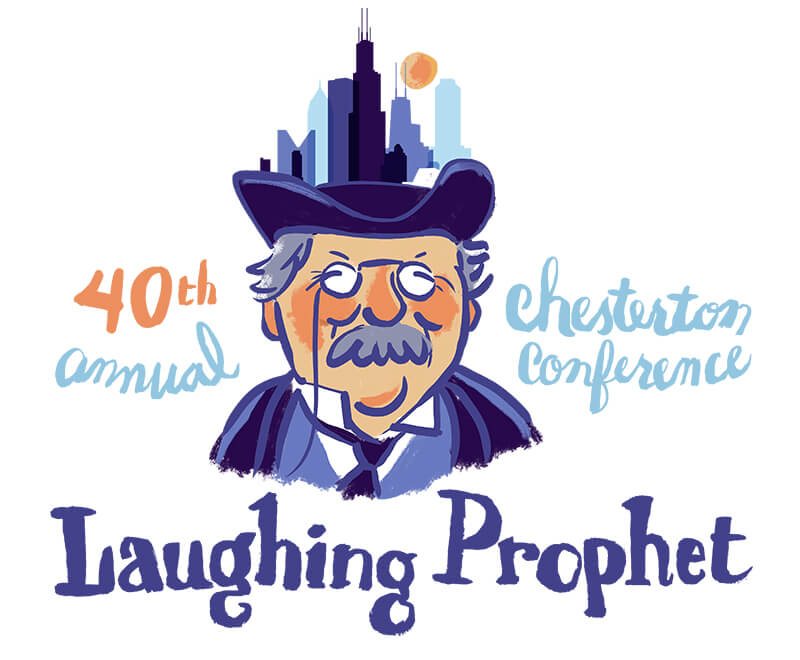 For more information or assistance, contact the Society of Gilbert Keith Chesterton toll free at 1-800-343-2425. See you in Chicago!