FOR IMMEDIATE RELEASE 
THE CATECHISM OF HOCKEY | A SURPRISING ANALOGY OF FAITH
"As a bishop and a hockey player, I am grateful for this contribution which I pray will be an effective tool in helping people to grow in a deeper appreciation for the Catholic faith by viewing it through the lens of the game of hockey."
The Most Reverend
THOMAS JOHN PAPROCKI
Bishop of Springfield in Illinois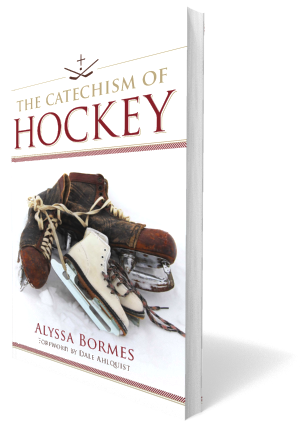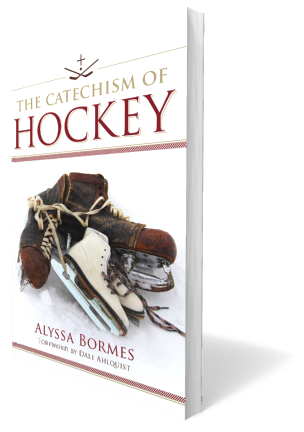 MINNEAPOLIS, MN (October 3, 2013) – ACS Books announces the release of the much-anticipated book, The Catechism of Hockey. Author Alyssa Bormes takes parents on a wonder-filled journey of faith through the analogous game of hockey. More than just a fun teaching tool for parents, if you have ever needed help explaining the faith to your children, your friends, family, or even foes, The Catechism of Hockey is your new playbook.
The Catechism of Hockey is an unlikely, but effective Catholic resource for the New Evangelization.
The book is available in paperback for $14.95 at www.chesterton.org and is also available on Kindle at www.amazon.com.
About the Author
Alyssa Bormes received her Master's degree in Catholic Studies from the University of St. Thomas, which included study at the Pontifical University of St. Thomas in Rome, Italy. She holds a Bachelor of Arts in Psychology from the University of Minnesota.
Publisher's Website
ISBN: 978-0-9744495-0-0
Retail price: $14.95
206 pgs.
For media inquiries or information about reselling, please contact Richard Aleman at 952-831-3096.
ACS Books, a division of the American Chesterton Society
4117 Pebblebrook Circle, Minneapolis, MN 55437 | 952-831-3096 | www.chesterton.org