FOR IMMEDIATE RELEASE 
JOUSTING WITH THE DEVIL | CHESTERTON'S BATTLE WITH THE FATHER OF LIES
G.K. Chesterton believed in the Devil before he believed in God.
"This book explores G.K. Chesterton's encounter with the reality that is Satan. Whether or not you are familiar with Chesterton, you will be surprised at how familiar Chesterton is with this subject. Though he seems to have an intuitive sense of truth whatever his subject matter, when Chesterton writes about the Devil, he knows what he is talking about for more than intuitive reasons because his wisdom is supplemented by personal experience."
From the Introduction by DALE AHLQUIST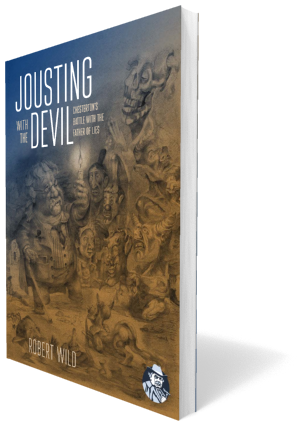 MINNEAPOLIS, MN (July 31, 2014) – ACS Books announces the release of Fr. Robert Wild's follow-up to his book The Tumbler of God: Chesterton as Mystic. An exciting title, Jousting with the Devil: Chesterton's Battle with the Father of Lies explores G.K. Chesterton's fascinating duel with Satan, both on paper and in his personal life. Poring over Chesterton's voluminous work, Fr. Wild examines how Chesterton's insights on evil extend beyond the philosopher's "problem of evil," proving Chesterton's genuine belief as well as confrontation with Lucifer and his demons.
Jousting with the Devil is as compelling as it is groundbreaking.
Now available in paperback for $12.95 at www.chesterton.org.
About the Author
Since 1971, Father Robert Wild has been a priest of the Madonna House community founded by Catherine Doherty. Jousting with the Devil is his second book on G.K. Chesterton, his first being The Tumbler of God, Chesterton as Mystic (Angelico Press).
Publisher's Website
https://www.chesterton.org/shop/jousting-with-the-devil
ISBN: 978-0-9744495-5-5
Retail price: $12.95
206 pgs.
For media inquiries or information about reselling, please contact Richard Aleman at 952-831-3096.
ACS Books, a division of the American Chesterton Society
4117 Pebblebrook Circle, Minneapolis, MN 55437 | 952-831-3096 | www.chesterton.org